Se lanzó al mercado una colección con grabaciones en directo de Frank Sinatra

Llega una caja con grabaciones en directo de Frank Sinatra que lleva por título "World On A String" y que sale a la venta el 21 de octubre. "World On A String" consta de 4 CDs y un DVD que ofrecen "un impresionante retrato de este icónico artista en diferentes escenarios internacionales. Un tesoro de grabaciones en vivo desde 1953 a 1982 con más de cuatro horas de inéditos de audio y video procedentes de todo el mundo. Incluye clásicos como 'I've Got You Under My Skin', 'Strangers In The Night', 'Moonlight In Vermont' y 'I've Got The World On A String'.
El DVD tiene imágenes no vistas como algunas actuaciones en 1962 destinadas a recaudar fondos para niños desfavorecidos de diferentes partes del mundo, destacando un hecho poco conocido de que a lo largo de toda su vida, Sinatra recaudó más de 1.000 millones de dólares para obras benéficas.
Las actuaciones recorren ocho diferentes países (Australia, Japón, Egipto, República Dominicana, Mónaco, Israel, Grecia e Italia) y van desde clubes privados a grandes estadios.
'World On A String' está dedicado a la memoria de Frank Sinatra Jr.".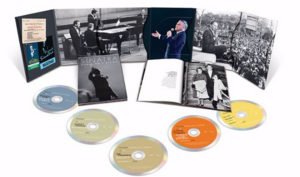 Contenido de "World On A String":
CD 1
SPORTING CLUB, MONTE CARLO – JUNE 14, 1958
1. Introduction by Noel Coward
2. Clarke Street (Play On)
3. Come Fly With Me
4. I Get A Kick Out Of You
5. I've Got You Under My Skin
6. Where Or When
7. Moonlight In Vermont
8. On The Road To Mandalay
9. When Your Lover Has Gone
10. April In Paris
11. All The Way
12. Monique
13. Bewitched
14. The Lady Is A Tramp
15. (Love Is) The Tender Trap (Play Off)
16. You Make Me Feel So Young
17. (Love Is) The Tender Trap (Bows)
Bonus Tracks (RAI Radio Club, May 20, 1953)
18. Radio Club Introduction
19. Welcome and Greetings
20. September Song – Frank Sinatra
21. Presentation and Announcements
22. Laura – Frank Sinatra
23. Baseball segment
24. Ninna Nanna – Domenico Modugno
25. Night And Day – Frank Sinatra
26. Closing Remarks
CD 2
SYDNEY STADIUM, AUSTRALIA – DECEMBER 2, 1961
1. Introduction By Tommy Hanlon Jr.
2. I've Got The World On A String
3. I Concentrate On You
4. Night And Day
5. Moonlight In Vermont
6. In The Still Of The Night
7. I'll Be Seeing You
8. Day In, Day Out
9. The Moon Was Yellow (And The Night Was Young)
10. You're Nobody 'Til Somebody Loves You
11. Monologue
12. Come Fly With Me
13. April In Paris
14. A Foggy Day
15. Without A Song
16. Imagination
17. The Second Time Around
18. Young At Heart
19. Witchcraft
20. Embraceable You
21. The One I Love (Belongs To Somebody Else)
22. My Funny Valentine
23. My Blue Heaven
24. Angel Eyes
25. One For My Baby (And One More For The Road)
26. The Lady Is A Tramp
CD 3
THE PYRAMIDS, EGYPT – SEPTEMBER 27, 1979
1. Mrs. Sadat's Comments
2. The Song Is You
3. Where Or When
4. The Lady Is A Tramp
5. Someone To Watch Over Me
6. Something
7. My Kind Of Town
8. All The Way
9. Bewitched
10. I've Got You Under My Skin
11. The Gal That Got Away /It Never Entered My Mind (Medley)
12. Monologue
13. Try A Little Tenderness
14. Strangers In The Night
15. Street of Dreams
16. April In Paris
17. Theme From New York, New York
18. My Way
19. Bows (My Way)
20. Closing Comments by Frank Sinatra
CD 4
ALTOS DE CHEVON, LA ROMANA, DOMINICAN REPUBLIC – AUGUST 20, 1982
1. I've Got The World On A String
2. I Get A Kick Out Of You
3. Come Rain Or Come Shine
4. When Your Lover Has Gone
5. The Lady Is A Tramp (with Reprise)
6. The House I Live In
7. Searching
8. My Kind Of Town
9. Something
10. The Best Is Yet To Come
11. Strangers In The Night
12. All Or Nothing At All
13. Introduction of Musicians
14. The Gal That Got Away/It Never Entered My Mind (Medley)
15. I've Got You Under My Skin
16. Send In The Clowns
17. Quiet Nights Of Quiet Stars (Corcovado)
18. I Won't Dance
19. Buddy Rich Band Introduction
20. Theme From New York, New York
21. Bows (Theme From New York, New York)
DVD
HIBYA PARK, JAPAN – APRIL 21, 1962
1. Introduction
2. Too Marvelous For Words
3. Imagination
4. Moonlight In Vermont
5. Day In, Day Out
6. Without A Song
7. The Moon Was Yellow (And The Night Was Young)
8. I've Got You Under My Skin
9. I Get A Kick Out Of You
10. At Long Last Love
11. My Funny Valentine
12. In The Still Of The Night
13. Embraceable You
14. Night And Day
15. April In Paris
16. The Lady Is A Tramp
17. Bows
18. Monologue and Band Introductions
19. All The Way
20. Chicago
21. I Could Have Danced All Night
22. Bows (Closing)
FRANK SINATRA WITH ALL GOD'S CHILDREN, 1962
SINATRA IN ISRAEL, 1962
PERUGINA COMMERCIALS, 1962
1. Night And Day
2. My Funny Valentine
3. I've Got You Under My Skin
4. Moonlight In Vermont
5. I Love Paris
6. Come Fly With Me
7. My Blue Heaven
8. Chicago
9. Imagination
10. Witchcraft
11. A Foggy Day
12. The Lady Is A Tramp